The Store
Cupcake Construction Company is proud to be Lawrence's first cupcake shop and the only Interactive Cupcake Bar in the Midwest. We are located at 727 Massachusetts St in beautiful Downtown Lawrence, KS. Each day, we bake hundreds of full-size and mini cupcakes at our store. Guests can come in, choose which flavor cake, filling, frosting, and toppings they'd like on their cake, and we assemble it right in front of their eyes! Carrot cake with strawberry icing and Oreo's on top? No problem! Plain vanilla cake, and vanilla icing only? It's more common than you'd think. We will assemble whatever combination you want! In addition to cupcakes, we also serve Coca Cola products, ice cold milk, fresh-brewed coffee, and hot tea. We are open daily at 11:00AM. We close at 8:00PM Sunday - Thursday, and 10:00PM Friday and Saturday. Holiday hours vary.
While the Cupcake Bar is what we are known for, we gladly accept special orders from 12 to 1,200 cupcakes (and more!) Our cupcakes are perfect for birthday parties of ANY age, and are a great way to say "Thank You" to a business colleague or associate. With so many flavors to choose from, the options are literally limitless! Call today and speak with a cupcake architect to plan your next order.
Interactive Cupcake Bar - Mobile Edition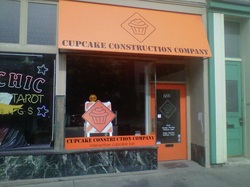 In addition to our store, Cupcake Construction Company also caters! We can take our Interactive Cupcake Bar on the road and set it up at your next event. Imagine your guests' reactions as they realize they get to build their own cupcake exactly how they like it. With thousands of different combinations available, it's possible no 2 guests would have the same dessert! It's the perfect combination of delicious dessert, creativity, and entertainment, and the cost of dessert alone. For more information or a price quote, email
events@cupcakeconstructioncompany.com
.
---
The Concept
In the fall on 2009, owners
Michael
and Megan Kricsfeld were watching The Food Network, and were intrigued at single-concept stores, like
Cereality
in Chicago and
OPB&J
in Colorado Springs (a peanut butter and jelly only store). Both knew they wanted to start a new business but it wasn't until Megan kiddingly suggested Cupcakes did the concept become a reality. While Kansas City already had several cupcake shops (and that number continues to grow), the Kricsfeld's noticed that they were all geared towards girls! Pink was the predominant color in all of them, and there wasn't any differentiation between any of the stores.
Megan had just been laid-off from her job, and came up with the idea of Cupcake Construction Company. The customer could "build" his own cupcake, and then everything could revolve around the construction theme. A universal "safety orange," black, and white color scheme would ensure guys felt as comfortable in the store as girls. Before opening a retail location, the two worked out of their house catering weddings, corporate events, and delivering cupcakes all across Kansas City. In early 2011, an opportunity arose to take over an existing bakery in Lawrence, KS. The couple jumped on the opportunity, and opened the doors to Cupcake Construction Company on May 4th, 2011.
Giving Back to the Community
We believe that giving back to the community is an essential part of any business.
That is why we are proud to support numerous local and national charities and organizations here in town.
Since opening our doors in early May, we have donated our goods and services to over 20 organizations, including:
American Cancer Society
Big Brothers Big Sisters of Douglas County
Boys & Girls Club of Lawrence
Extreme Makeover Home Edition
Free State High School
GaDuGi Safecenter
Jefferson County Humane Society
Jewish Federation of Kansas City
Journal World Newspapers in Education
KU Hillel
Lawrence Community Shelter
Lawrence High School
Lawrence Hunger Project
Lawrence Public Schools
Leukemia & Lymphoma Society
LINK
Natural Ties
St. John Catholic School
Susan G. Komen Foundation
United Way of Douglas County
University of Kansas
Student Housing
UKanTeach
Speech-Language-Hearing Clinic
If you are part of an organization and are looking for donations or to hold a "Percentage Night" where we will donate a percentage of all sales on a particular day, please call and talk with a manager.