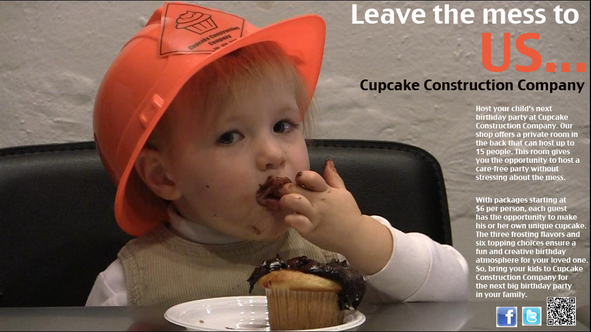 Birthday Packages
All packages include use of Cupcake Construction Company's party room for 1 hour, a dedicated staff person, instructions and a demonstration on "constructing" your own cupcake, and all plates, napkins, and silverware.
$6 Per Child:
1 Cupcake per person (from flavors in the store that day),
3 Frostings (chosen in advance), and
6 different toppings.
$8 Per Child:
1 Cupcake per person
4 Frostings
8 Toppings
Choice of Beverage (bottled water, soft drink, white or chocolate milk)
$10 Per Child:
2 Cupcakes per person (1 to eat in store, 1 packed in a to go box for later)
4 Frostings
8 Toppings
Choice of Beverage
Each party begins with a brief over view of Cupcake Construction Company. A Cupcake Construction Worker will greet each guest, and once everyone is present, go over how to build a custom cupcake. Frostings are bagged in individual-sized piping bags, and plenty of toppings are available for the children. We then demonstrate how we frost our cupcakes and answer any questions. Then the fun really begins...
Children (and adults) get to decorate their cupcakes with their favorite frostings and toppings. They can put as much or as little frosting on as they desire. Once all the decorating is complete, there's time to sing Happy Birthday and open presents.
The packages above represent our most popular packages. We can add or subtract to any package to fit within your budgetary guidelines. Party room seats up to 12 people comfortably. We do request a minimum of 5 people for each package. Please call or fill out the information below for more information or to book your child's birthday!
---