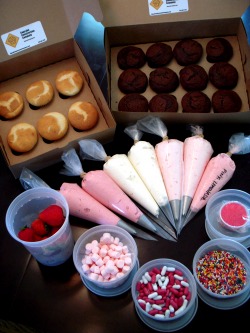 DIY Cupcake Kits
For smaller, more intimate parties, Cupcake Construction Company offers it's Interactive Cupcake Bar without the staff. Perfect for parties and gatherings under 20 people, this option offers kids the option of literally making their own cupcake. Place your order as usual, but instead of getting cupcakes already assembles, all the elements will come in components.
Frostings are divided into miniature, disposable piping bags. All the toppings come on the side. We do recommend ordering a few extra cakes, just in case the 1st cupcake isn't perfect.
This option is also the perfect team-building event for corporate or non-profit boards. Pick a judge or two, and see which individual or team can create the best cupcake flavor and the prettiest creation.

Starting at $45 per dozen, choose 2 flavors frosting and 5 toppings. Price includes extra frosting and toppings, as well as piping bags and tips. Custom packages are available. Pricing is based on the number of frostings and toppings chosen.