Late-Night Cupcakes are now available - At Your DOOR!!!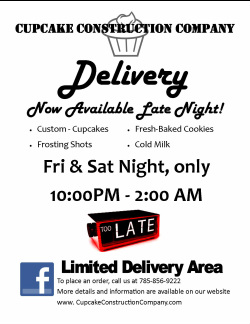 Cupcake Construction Company will again be testing out late-night delivery this weekend, on Friday September 14th and Saturday September 15th. Here's the details and menu:
Delivery hours will be from 10PM - 2AM. Last order must be placed by 1:30AM
For this test run, the delivery zone will be limited - We will only deliver between Downtown west to Iowa Street, and from 6th to 23rd St. This includes all KU housing, but not apartment complexes like The Connection, The Grove, The Legends, etc. (we will make an exception for Meadowbrook apartments!)
We will accept credit cards over the phone or cash upon delivery.
Orders must be PHONED in by calling the store at 785-856-9222!
SATURDAY (9/15) NIGHT'S MINI OPTIONS ARE LIMITED. PLEASE CALL THE STORE FOR AVAILABILITY.
***Minis are subject to availability. Once we run out, we're out... Sorry.
SATURDAY (9/15) NIGHT CAKE AND FROSTING FLAVORS:
Cakes: Chocolate, Vanilla, Red Velvet, Strawberry
Frostings: Chocolate, Vanilla, Strawberry, Peanut Butter, Orange-Zested Cream Cheese, and Chocolate Cream Cheese
ALL toppings will be available!!!
---