FACT: The Average Wedding Guest Does Not Have A Choice In What Flavor Cake They Eat at a Reception.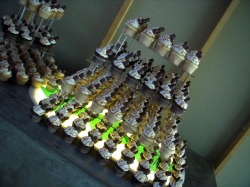 Go

BEYOND Average, and have Cupcake Construction
Company Provide the Cupcakes

Benefits of having CCC at your event include:
1000's of different flavor combinations customizable to include YOUR favorites as well as all your guests' favorite flavors.

Same price

as a single serving of 1 flavor of cake.

Pay only for the number of servings you want.

Consistent serving size for each guest (larger than a traditional wedding cake slice).

Can fit into your color scheme or theme for the evening.

Unique, one-of-a-kind concept

Interactive Cupcake Bar makes your event memorable.

Great for take-home gifts - if served in optional individual boxes.
If you are looking for a unique, fun, alternative to a traditional wedding cake, Cupcake Construction Company is the perfect option. Our staff will come with a selection of foundations, fillings, roofs, and luxury amenities and assist your guests as they create their OWN dessert option. For about the same price as a serving of fondant cake, you can offer your guests up to four flavors of cakes, two fillings, different frostings, and 10 toppings!
This is a perfect alternative to a traditional wedding cake, or is a fun interactive dessert station in addition to a wedding cake. Also, custimized cupcakes make the PERFECT take-home gift. Cupcake Construction Company can provide individual boxes to match the colors of your reception and let your guests make their own cupcake to remember your special day.
Cupcake Construction Company also has several custom-made cupcake tiers available for rent that are both round and square. These can be used for already-made cupcakes, or the unfrosted cakes can be set on them and used as part of the station.